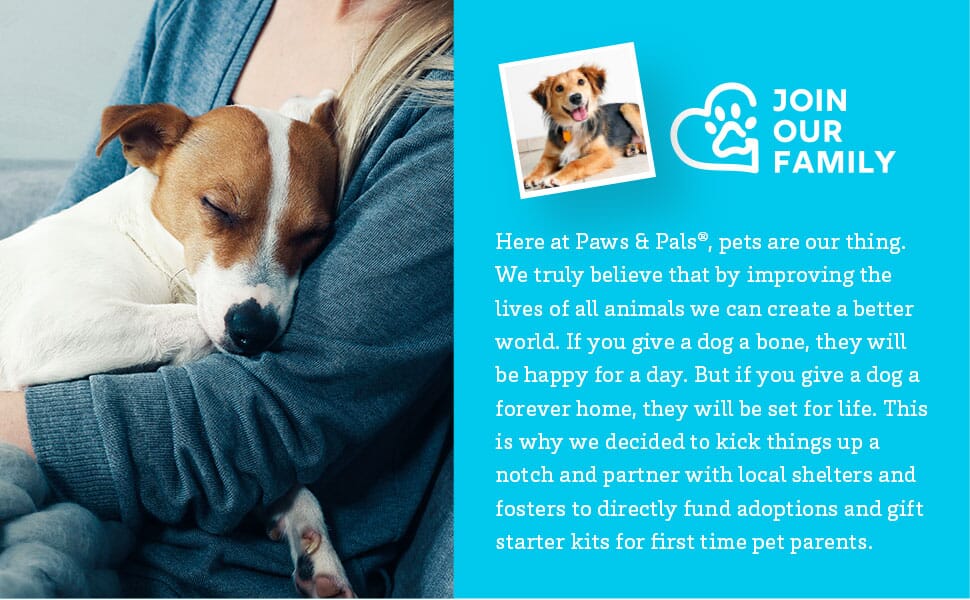 Calming Mist Spray for Dogs & Cats
Sale price
1,299.00
Regular price
Tax included.
Estimated Delivery:Sep 26 - Sep 30

Free Shipping: On all orders over Rs 999
Product description
Features
Size
PRODUCT DESCRIPTION:

• FAST-ACTING:
Specially formulated ingredients for the sensitive skin of your pet. Paws & Pals Pet Calming Mist Spray controls your pet's emotions while giving it the calming boost it needs to overcome unexpected situations.
• DOGS & CATS:
Great for cats & dogs. Helps calm your pet (from barking, destructive chewing, trembling, anxiety, and more) at home or on the go.
• USE AT HOME OR ON THE GO:
Apply it on items like couches, rugs, beds, kennels, cars, or carriers to soothe & calm nerves. Use it before events such as meeting new people, traveling, hearing fireworks, violent weather such as thunder. So help pet achieve true relaxation with a simple spray.
• STRESS RELIEF:
Calming spray is infused with lavender that eases stress and promotes a calmer pet. Also provides wonderful sweet aroma that will deodorize your pet and their surroundings.
• KEEP CALM:
Great for cats & dogs, calming solution spray smells good and may help reduce problem barking, destructive chewing, trembling, separation anxiety, fear of loud noises, hiding & more.
• SAFE, NON-TOXIC FORMULA:
Paraben-Free, Sulfate-Free, Phosphate-Free, Free of Synthetic Dyes or Perfumes.
• CAT SCRATCH DETERRENT: 
Spray it onto your bed, furniture, linen, pillow or any other area of the house where your kitty enjoys to scratch and chew. It will help them relax and deter them from such destructive behaviors.

KEY ATTRIBUTES:
Manufacturer : Paws & Pals
Brand: Paws & Pals
Recommended for: Both Dogs & Cats. 
Color: Calming Spray
Breed Recommendation: All Breeds
Spray Weight: 12 fl oz ( 354 gms )
Spray Dimensions: l 2 x w 2 x h 10 inches.
Care Instructions: Keep away from Children, Avoid Contact with Eyes

Certified and Made in the USA.

INGREDIENTS:
Water, Babassuamidopropyl Betaine, Glycerin, Aloe Barbadensis (Aloe) Leaf Juice, Chamomile (Anthemis Nobilis) Extract, JoJoba (Simmondsia Chinensis Seed) Oil, Argania Spinosa Kernel Oil, Zinc Ricinoleate, Panthenol (Pro vitamin B5), Tocopheryl Acetate, Lavandula Angustifolia (Lavender) Flower/Leaf/Stem Oil, Rosmarinus Officinalis (Rosemary) Leaf Oil, Melia Azadirachta leaf (Neem) Extract, Citric acid, Fragrance (Perfume).

DIRECTIONS:
1. For best results, spray directly onto affected area, pausing briefly between sprays to allow the product to be absorbed. Do not saturate. Agitate area.
2. Apply enough product to cover the entire soiled area. Blot with clean cloth. After removal of stain, wipe clean.

SAFETY INFORMATION:
Keep away from Children, Avoid Contact with Eyes.

WHY PAWS & PALS CALMING SPRAY ?


1. FRESH AROMA :
It smells so good you might even mistake it for an air freshener!


Our calming mist is infused with lavender to help keep your pet calm and their surroundings smelling fresh.
It smells so good you might even mistake it for an air freshener!

2. SOOTHING & RELIEVING :


Our water-based botanical blend features chamomile, aloevera and lavender to help calm your pet, easing separation anxiety and stress.
Use it before stressful situations such as fireworks, thunderstorms, and traveling.

3.EASY TO USE :


For best results, spray directly onto items such as bedding, couches, rugs, pet carriers, and anything your pet frequently uses during stressful situations.
DO NOT SPRAY ON YOUR PET.

ABOUT PAWS & PALS:


Paws & Pals believe that good intentions are the first step to a successful product. So Paws & Pals gathered the finest ingredients and the most innovative designers from around the world to create honest, hand-crafted products for both you and your pet.
Passion of Paws & Pals is Selling quality and premier pet products and trendsetting pet supplies.
With one paw in the present, and one reaching for the horizon, Paws & Pals in every home across America.