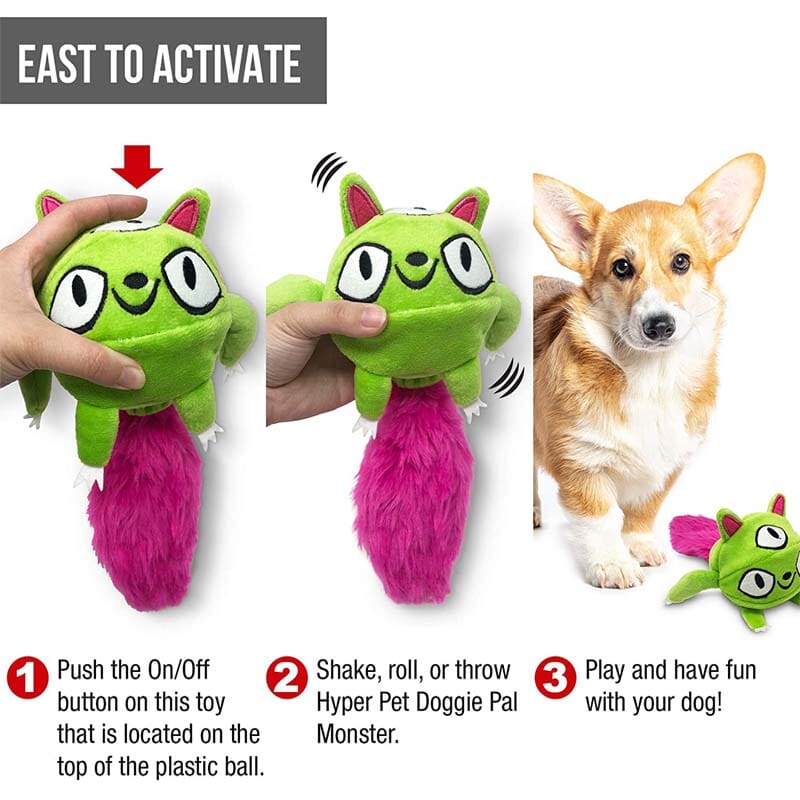 Doggie Pal-Monster Toy With Batteries
Sale price
2,299.00
Regular price
Tax included.
Estimated Delivery:Dec 13 - Dec 17

Free Shipping: On all orders over Rs 999
Product description
Features
Size
PRODUCT DESCRIPTION:

• PLUSH SQUEAKY DOG TOY WIGGLES, VIBRATES & BARKS:
Entice your dog to run, chase, play and exercise.
This Hyper Pet Doggie Pal-Monster is an interactive dog toy encourages fun playtime for large and small dogs of all life stages.
• REDUCE ANXIETY AND BOREDOM:
With funny sounds & erratic movements, this plush dog toy will capture your dog's interest and keep them mentally and physically stimulated for extended periods.
As with any dog toy, always supervise your pet while playing.
• EASY TO ACTIVATE:
On/Off button on this plush dog toy is located on the top of the plastic ball.
Press the button to turn the ball on.
• BATTERY OPERATED PROLONGED PLAY:
This interactive dog toy is designed to auto stop after a period without use.
This feature maximizes the battery life. (Batteries are included with the Monster Pal).

KEY ATTRIBUTES:
Manufacturer: Cosmic Pet.
Brand : Hyper Pet.
Design : Battery Operated Doggie Pal-Monster
Theme : Monster
Material: 40% HIPS (High Impact Polystyrene Sheet); 50% Polyester Plush; 10% LLD PE (Linear low-density polyethylene).
Special Feature: Interactive, Squeaky, Fun Toys. Boredom & Stimulating Play.
Toy Weight : 200 gms.
Toy Size: LxWxH -6 x 4 x 13 inches.
MADE IN USA.
ABOUT BRAND:
Cosmic Pet is a Multi-branded, International Company that Designs and Manufactures Pet Products for Cats and Dogs.
Family of brands includes: Hyper Pet, Pet Zone R2P Pet Mad Cat, R2P Pet Mega Mutt, Ultra Paws.
Stimulating Pet Toys and Accessories that help Strengthen the Bond between Pets and their Parents.


Hyper Pet offers unique, patented, interactive toys for you and your dog. The Versatile and Durable Toys encourage your Dog to Exercise, Play, Fetch, Retrieve &   have Fun.
Doggie Tail Pal Monster:
Has motion activated sensors that encourages your pup to keep playing.
This toy is perfect for Hyper dogs to play with for hours.
Steps To Activate Doggie Tail Pal Monster:
1. To activate, shake, roll or throw the Hyper Pet Doggie Pal Monster.
2. The random motion will continue for approximately 10 seconds.
3. Once action stops, rock, roll, or throw the interactive dog toy again to reactivate and continue play.
4. When playtime is over, simply press the button to turn the ball off.
Battery Replacement Instructions:
To change batteries, remove the plastic ball from the plush toy cover.
1. Use tab to open the ball.
2. Remove the battery compartment and insert 3 AAA batteries.
3. Auto stop after a period without use.