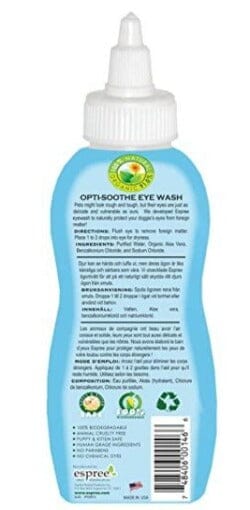 Opti-Soothe Eye Wash For Pets
Sale price
699.00
Regular price
Tax included.
Estimated Delivery:Sep 26 - Sep 30

Free Shipping: On all orders over Rs 999
Product description
Features
Size
Use Espree Opti-Soothe Eye Wash to cleanse your pet's eyes of foreign matter.
Helps hydrate dry eyes.
A natural aloevera based eye wash solution to rinse foreign matter.
Espree eyewash to naturally protect your doggie's eyes.
Fragrance Free.
Made with 100% Organically Grown AloeVera.
Available in 4 fl oz (118 ml) size.

KEY ATTRIBUTES:
Manufacturer : Espree
Pet Type: Dogs & Cats
Product Type : Dog's Eye Drops.
Size & Product Weight: 4 fl oz (118 ml) - 113 gms.
Special Features: Clearly cleanses your pet's eyes of foreign matter.
Made in USA.

ABOUT ESPREE:

ESPREE, Manufacturer of Pet and Animal Products.
Espree pet products are as gentle and safe as Mother Nature.
Pet care the way nature intended with gentle effective ingredients.
Formulated for both professional and consumer use.
Espree have dog grooming, cat grooming and other pets products.
Espree includes Everyday Grooming Products like Shampoos, Professional Shampoos, Conditioners, Colognes, Wipes, Facial Cleansers, Dry & Waterless Bath, Coat Renewal, Healing Solutions, for pets' Ears/Eyes/Paws, Odor Control, Flea & Tick products & Oral Care products.
Using premium ingredients, Espree develops wholesome, gentle and effective products for all your dog and cat grooming needs.


INGREDIENTS:
Purified Water, Saline Solution, Aloe Vera Juice.

DIRECTIONS:
1.

To remove foreign matter, flush eyes with several drops.  


2. For dryness, place 1–2 drops into eye.
3. Use as needed.